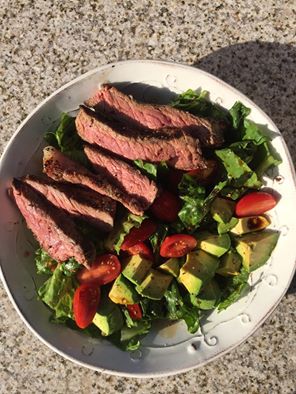 Ingredients:
8 oz Ribeye
2 Cups Romaine lettuce or Baby Spinach
1/4 Tomatoes
1/2 Avocado
1/4 Milanese Gremolata Olive Oil
1/4 Red Apple Balsamic Vinegar
Season and Grill your ribeye as you prefer, I prefer mine medium rare with a little salt and pepper.
Cut up Romaine, tomato, avocado
Mix olive oil and balsamic vinegar in a small glass bowl until it is emulsified.
Toss greens, avocado and tomatoes with vinaigrette, cut steak as desired and place on salad. Enjoy!
Serves 2