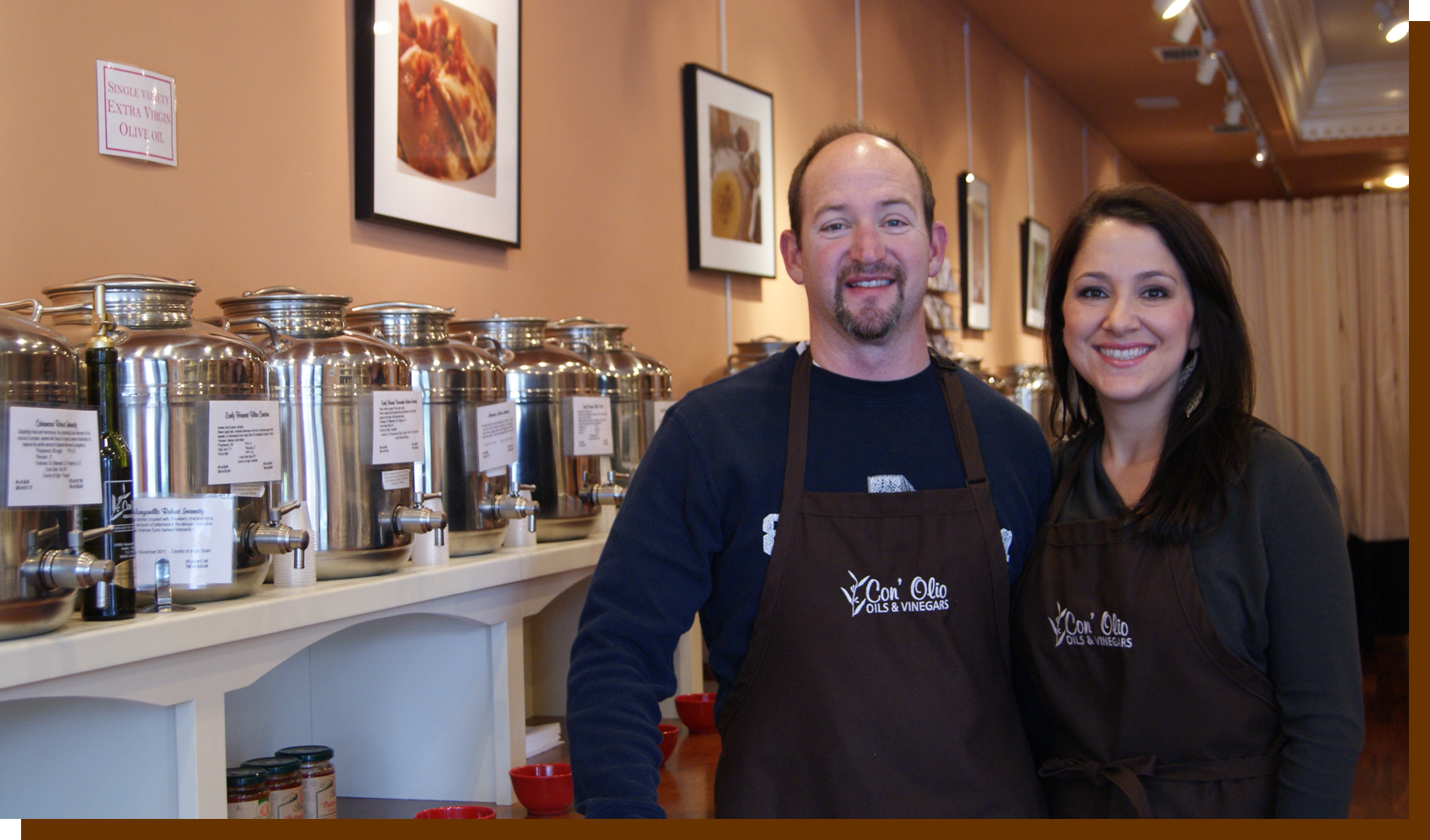 Founded in 2009 Con' Olio Oils and Vinegars is the first premium olive oil tasting bar to set up shop in Austin. The Con' Olio experience — influenced by Europe's unique food culture, street markets and small-town cafés — is available at three Austin locations: 215 Lavaca St. in the Second Street District, at the Arboretum & in Bee Cave at the Shops at the Galleria. All three locations of this family-owned oil boutique offer the try-before-you-buy concept, serving complementary tastes of the freshest Extra Virgin Olive Oils (EVOO) & Aged Traditional Balsamic Vinegars in town. As taste testers tap into the liquid gold of Con' Olio's olive oils and vinegars, poured from one stainless steel Fusti storage container to another, the knowledgeable staff provides expert insight on how to identify high-grade oils and distinguish their particular flavors and aromas. Unlike many oil tasting bars that provide bread for dipping, Con' Olio encourages customers to sip from tasting cups, which helps preserve the oils' integrity and flavor. To ensure authenticity, bottles are filled directly from the tasting Fustis, each of which specifies the harvest date and chemical-testing results along with the organoleptic tasting profiles.
Inspired by the highly sophisticated oils and vinegars , they sampled while traveling throughout Europe, Jeff & Tabatha Conarko left their corporate careers for a business venture in fine-food retailing. Since its opening over eight years ago, Con' Olio — meaning "with oil," and a play on the couple's last name — has been committed to quality, providing an in-store experience that educates patrons as well as enlivens their senses.
Jeff & Tabatha are also part of an elite handful of individuals in North America to earn their certification as expert olive oil sensory evaluators by the oldest & most accredited olive oil tasting school in the world! ONAOO (Organizzazione Nazionale Assaggiatori Olio Di Oliva) is located in Imperia, Italy. You can read more about this accredited school here: www.oliveoil.org. To be certified by ONAOO, you must pass a series of taste and smell tests proving you can discern flaws and characteristics in olive oil. Jeff and Tabatha passed the rigourous tests which included smelling a row of ten oils on a scale from weak to strong. They then had to turn their backs while the tester placed an oil out of place. Jeff and Tabatha had to then figure out which oil was out of place by smell and place it back in the correct order!
And most recently Tabatha received her Olive Oil Sensory certification from world renowned UC Davis Olive Center. The UC Davis Olive Center has established UC Davis as a world leader in research and education, pursuing a vision to "do for olives what UC Davis did for wine."