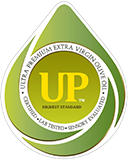 *Crush Date: November 2016
A delightfully pungent version of the iconic Greek variety from...Spain! Chock full of desirable pepper and savory notes, this example displays herbaceous qualities & high, desirable pungency without a ton of bitterness. Limited supply of this gem.
*Polyphenols: 298 ppm *FFA: 0.1
*Oleic Acid: 75 *Peroxide: 6.7
Organoleptic Taste Panel Assessment:
Fruitiness: 5.0 Bitterness: 4.2 Pungency: 5.0
*As measured at the time of crush.
Country of origin: Spain Producer: Melgarejo
Nutritional Facts
Serving Size: 1 Tbsp (15mL)
Servings/container: 25
Amount Per Serving
Calories 120 Fat Cal 120
% Daily Value*
Total Fat 14g 22%
Saturated Fat 2g 10%
Polyunsaturated Fat 1g
Monounsaturated Fat 10g
Trans Fat 0g
Sodium 0mg 0%
Total Carb 0g 0%
Protein 0g
Not a significant source of cholesterol, dietary fiber, sugars, vitamin A, vitamin C, calcium and iron
* Percent Daily Value are based on a 2000 calorie diet